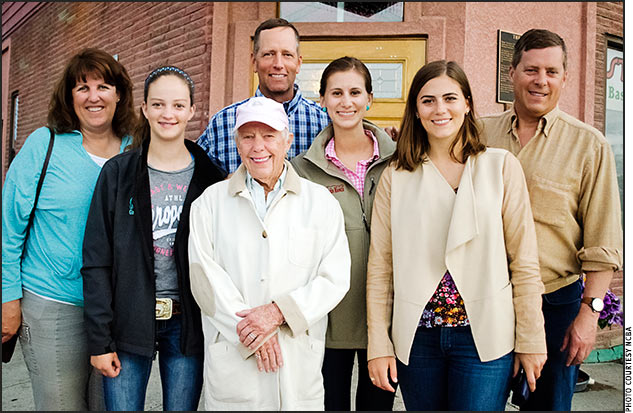 Maggie Creek Ranch and the Searle family of Elko, Nev., were named national winners of the 2015 Environmental Stewardship Award.
Nevada Ranch Honored for Commitment to Environment

Maggie Creek Ranch takes home Environmental Stewardship Award Program's top national award.
SAN DIEGO, Calif. (Jan. 27, 2016) — Maggie Creek Ranch and the Searle family of Elko, Nev., were named national winners of the 2015 Environmental Stewardship Award. The award recognizes ranchers for their commitment to outstanding land management practices that create healthy, balanced ecosystems.
"Maggie Creek Ranch exemplifies environmental stewardship in the beef community, illustrating how ranching families work every day with the land, natural resources and cattle to better the environment," said Philip Ellis, president of the National Cattlemen's Beef Association (NCBA). "When cattlemen and women, like the Searle family, dedicate themselves to conservation efforts the entire industry benefits."
Raising cattle in sage brush country since 1975, Maggie Creek Ranch operates on two-thirds owned land and one-third permitted federal land. Ranch manager Jon Griggs has worked for many years to build trust with various partners and collaborate on conservation projects. One of those key partners is the Bureau of Land Management (BLM).
"We have had a common vision of the watershed and what the land should look like," said Carol Evans, fisheries biologist, BLM. "Never mind the land boundaries, we just get to work."
The ranch works to improve habitat for wildlife, including threatened and endangered species. One project of particular success was the installation of irrigation diversions and a fish passage to protect the Lahontan cutthroat trout. Protective structures in the stream ensure the fish can move up and down the creek, spawn and access food sources. A healthy habitat at Maggie Creek Ranch is an ecosystem to support fish, wildlife and cattle in a sustainable manner which is part of a family tradition that started nearly 40 years ago with Sally Searle and her late husband, Bill.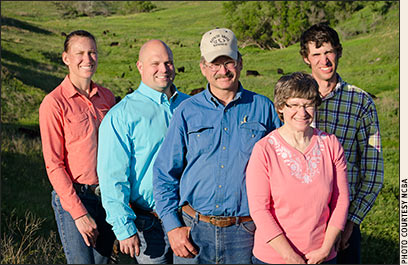 Kopriva Angus and the Kopriva family of Raymond, S.D., were honored with one of seven regional Environmental Stewardship Award Program (ESAP) awards. 
"This award is such a personal thing for us with my grandfather being gone," said Bekah Klarr, granddaughter of the Searles. "He really lives on through environmental stewardship and that heritage that he passed to us, which means a lot."
Celebrating its 25th anniversary, the Environmental Stewardship Award Program was created to recognize beef producers who make environmental stewardship a priority on their farms and ranches while improving production and profitability.  The award is presented by the National Cattlemen's Foundation (NCF) and NCBA, and is sponsored by Dow AgroSciences, NRCS, and the U.S. Fish and Wildlife Service.
"The Searle family and each of our 2015 regional winners are examples of the best in American agriculture," said Dave Owens, U.S. Range and Pasture Marketing manager for Dow AgroSciences. "These winners make a living from the land and leave it better than when they started. We are proud to honor these outstanding environmental stewards."
See more at www.beefusa.org/newsreleases1.aspx?NewsID=5567#sthash.uHQaoPUb.dpuf.
Editor's Note: This article was provided as a news release by the National Beef Cattlemen's Association. The original release is available on the organization website at www.beefusa.org.