CattleWomen Chart Course
ANCW members continue to strive to engage and educate producers, public.
SAN DIEGO, Calif. (Jan. 26, 2016) — The American National CattleWomen (ANCW) convened meetings as a precursor to the 2016 Cattle Industry Convention being hosted in San Diego, Calif., Jan 27-29. On Jan. 26, more than 100 CattleWomen from across the country gathered to share ideas and discuss programming for the organization's future.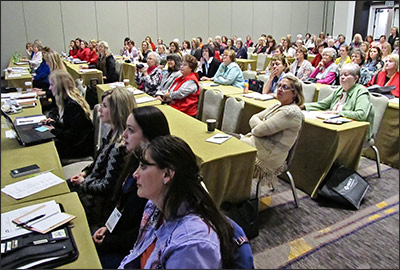 CattleWomen from across the country gathered for a day of meetings and to share ideas Tuesday, Jan. 26, in San Diego.
During her remarks, ANCW President Melanie Fowle emphasized that ANCW has two focuses going forward.
"We have many issues to address, but our top priorities for the coming year will focus on collegiate and women's leadership," she explained.
Several Collegiate CattleWomen chapters are currently in existence at college campuses across the country, and it's anticipated that about 200 Collegiate CattleWomen will be at the Cattle Industry Convention for the week.
Regarding the organization's focus on women's leadership, Katie Carruth, ANCW executive, expressed, "Thirty percent of U.S. farms are being run by women. We need to meet that need of facilitating leadership for them." She noted that includes programming that aids with tax planning and business management, as well as initiating women's involvement in leadership roles within the industry.
ANCW has begun offering monthly webinars on leadership and business topics to their membership. They also have revamped the e-newsletter that delivers information to the membership.
In efforts to reach a broader audience, ANCW is also active with social media. In 2015 they hosted five Twitter parties (@BeefPros) to engage consumers with "mommy bloggers" on the topic of beef. A total of 228.2 million impressions resulted from these events.
ANCW member Kasey Wallace reported that survey feedback from participants was very positive regarding their perceptions of beef.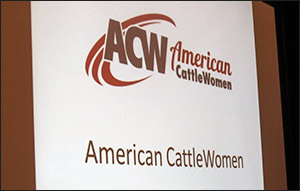 The ANCW executive committee will be propose a name and logo change — removing the word "National" — to their membership. The membership will vote on the proposed change Jan. 28.
"I know we were able to make a positive influence," she said. Noting that beef-related parties via Instagram and Pinterest were also hosted, she said, "Twitter has been strongest for us."
ANCW also has a presence on Facebook and SnapChat at NAT_CattleWomen.
Later in the week the ANCW will hold its General Membership Business Meeting. One business item to be voted on will be a slight name change and new logo. ANCW executive committee is proposing that the word "National" be dropped from the organization's name, to become the American CattleWomen.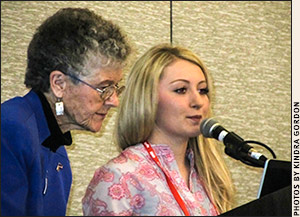 Current ANCW president Melanie Fowle and Gabriella DeSimone shared the lessons plans that CattleWomen can utilize for K-12 Education programs.
Also at the business meeting, Pennsylvania's Ann Nogan, currently the organization's president-elect, will assume her duties as president Jan. 28.
The ANCW website provides this definition of their membership: An American CattleWoman is a strong, enthusiastic woman, willing to stand up for what she believes in. She is equally at home on a ranch, in a meeting, at a social function, or a legislative venue. She is not necessarily a farm or ranch woman, but she is someone who strongly supports the cattle industry and America's agricultural heritage through education and promotion. Learn more at www.americancattlewomen.org.
Editor's Note: The articles used within this site represent a mixture of copyrights.This article was written by or under contract of the Angus Journal, an Angus Media publication. If you would like to reprint or repost the article, you must first request permission by contacting the editor at 816-383-5270; 3201 Frederick Ave., Saint Joseph, MO 64506. The Angus Journal claims copyright to this website as presented. We welcome educational venues and cattlemen to link to this site as a service to their audience.