Using Technology to Feed a Growing World Population
Monsanto exec discusses importance of advancing technology, understanding of technology.
SAN DIEGO, Calif. (Jan. 27, 2016) — Robert Fraley, executive vice president and chief technology officer at Monsanto Co., wasted no time in laying out the challenges that lie ahead for agriculture as he presented keynote remarks kicking off the 23rd Annual Cattlemen's College® hosted by Zoetis Jan. 27, 2016, in San Diego, Calif. Fraley pointed out an often-cited statistic: The population is projected to grow from the current 7.3 billion to 10 billion by 2050 — a span of just 34 years.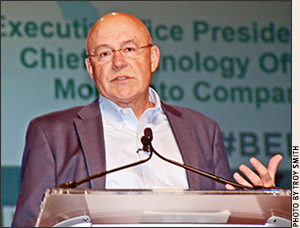 "We have 20 years of experience with GMOs in our food and feed supply and not one single food or feed safety issue," said Monsanto's Robert Fraley.
With that, Fraley noted that the world will experience double the current demand for food by the year 2050 amidst a plethora of changes — a rise in the number of people in the global middle class, changing economies and diets, demand for healthier options, decreasing water availability, evolving ag policies and declining availability of arable land.
"We will have to produce more and waste less to get there. These are the challenges," Fraley remarked. "I absolutely believe that we have the tools and technology to address them."
Regarding technology, he stated, "This isn't about us, but about leaving a legacy [addressing food security] for our children and grandchildren."
From a beef perspective, Fraley noted, "tremendous demand exists and is growing." He added, "Animals are the largest consumers of row crops. That makes us partners in advancing GMOs (genetically modified organisms) … To increase beef production, we must also increase ag production."
As an example of the need for increased production, Fraley shared that in 2015, 2.0 billion bushels (bu.) of corn were produced. By 2050, it is estimated 2.8 billion bu. of corn will be needed to raise enough beef to meet the growing demand.
Looking to the past, he noted that annual corn production has gone from averaging 75 bu. per acre to 170 bu. per acre, and said, "That's been achieved through technology."
With 2016 marking the 20th anniversary since GMO crops have been grown, Fraley reported that the technology is being used to grow crops in 30 countries.
"These crops are the most thoroughly studied in our food system, and as a result, they are the safest," he said. "We have 20 years of experience with GMOs in our food and feed supply and not one single food or feed safety issue."
That said, Fraley acknowledged that his company and the agriculture industry must do more to bridge the understanding gap between science and society.
"There's clearly a gap between what science can do and what the average person believes can be done and feels comfortable with," he said.
He concluded, "We need to reach out … We need to listen and engage. Just as important as the work you do is teaching others about what you do."
For more information about GMOs visit gmoanswers.com, www.americasfarmers.com, discover.monsanto.com. Follow Fraley on Twitter @Robb Fraley.
Editor's Note: The articles used within this site represent a mixture of copyrights. This article was written by or under contract of the Angus Journal, an Angus Media publication. If you would like to reprint or repost the article, you must first request permission by contacting the editor at 816-383-5270; 3201 Frederick Ave., Saint Joseph, MO 64506. The Angus Journal claims copyright to this website as presented. We welcome educational venues and cattlemen to link to this site as a service to their audience.