Blach Summarizes CattleFax Outlook
Market analyst warns easy profits aren't likely any time soon.
SAN DIEGO, Calif. (Jan. 28, 2016) — Who knew it would happen so fast? Even CattleFax market analyst Randy Blach was surprised by how rapidly the cattle market correction came. He said as much during the annual CattleFax Outlook Seminar, hosted in conjunction with the 2016 Cattle Industry Convention in San Diego, CA.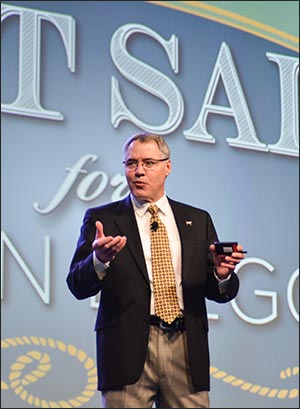 Commenting on continued cattle market volatility, CattleFax Market Analyst Randy Blach blamed part of the problem on inadequate price discovery. 
"We anticipated that increased protein supplies would move the market lower," said Blach. "Boy, it happened quick!"
In his presentation, Blach reviewed what he called the third-largest market rally in history. That was in 2014-2015, when prices climbed 37% in 15 months.
"In the last 12 months, we've seen the third-largest break in prices — a drop of 32% ," he said. "For some, $500- to $600-per-head profits shifted to $500 to $600 losses."
Blach said the contributing factors included a staggering increase in U.S. protein supplies led by record-large pork and poultry production. Exports struggled through 2015, meaning more product needed to be consumed here at home, and domestic beef demand softened.
Commenting on continued cattle market volatility, Blach blamed part of the problem on inadequate price discovery. He noted how the cash market for cattle continues to shrink, with only the Central and Northern Plains regions contributing to price discovery.
Looking ahead, Blach said expansion of the national is expected to continue in 2016, 2017 and probably through 2018, albeit at a more moderating pace. Increased feeder-cattle supplies should foster increased beef production in 2016. Annual per capita net beef supplies are expected to increase for the first time in a decade. Beef exports are expected to struggle during 2016, and perhaps through 2017.
"Exports must grow and markets expand or the domestic beef supply is likely to become burdensome," warned Blach.
Factors point toward lower cattle prices. However, Blach said cattle producers also have some good things going for them. Weather has been more favorable in many cattle-producing regions. Grain and forage supplies are ample and fuel costs are relatively low.
Warning that easy profits won't be found anytime soon, Blach said, "We've got to get back to doing business, in every segment of the industry."
Editor's Note: The articles used within this site represent a mixture of copyrights.This article was written by or under contract of the Angus Journal, an Angus Media publication. If you would like to reprint or repost the article, you must first request permission by contacting the editor at 816-383-5270; 3201 Frederick Ave., Saint Joseph, MO 64506. The Angus Journal claims copyright to this website as presented. We welcome educational venues and cattlemen to link to this site as a service to their audience.