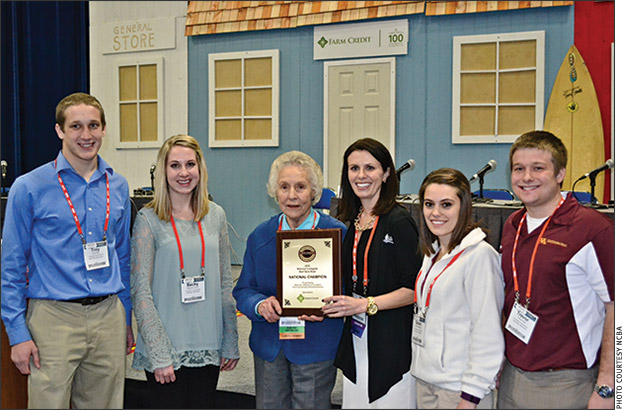 Members of the winning University of Minnesota beef quiz bowl team were (from left) Troy King and Rebecca Church, and Sarah Marketon (second from right) and Trevor Otte (right). Presenting the award were Linda Davis, National Cattlemen's Foundation (third from left) and Sarah Cortese, director of communications for Farm Credit (fourth from left).
Buzzer Beaters
University of Minnesota wins 2016 National Collegiate Beef Quiz Bowl.
SAN DIEGO, Calif. (Jan. 27, 2016) — University of Minnesota (U of M) students took home the gold at the National Collegiate Beef Quiz Bowl Wednesday, Jan. 27, at the 118th annual Cattle Industry Convention & NCBA Trade Show in San Diego, Calif. The competition was sponsored by Farm Credit Services and presented by the American Society of Animal Science (ASAS) and the National Cattlemen's Foundation (NCF).
The team of five students, including Rebecca Church, Sarah Marketon, Troy King and Trevor Otte, competed against Pennsylvania State University and Oregon State University, ultimately moving ahead of both teams to win the competition.
Jason Ahola, Colorado State University professor of beef production systems, moderated the competition.
"The event provides students with a venue where college students can compete with all things beef," he said.
The teams earned a spot in the competition by first participating in and winning their region's ASAS Academic Quadrathlon.
Students attending land-grant institutions are eligible and encouraged to participate in academic quadrathlons within their animal science departments. Students first form teams and compete in regional competitions sponsored by the ASAS. Winners from each region are awarded a sponsorship to attend the Cattle Industry Convention & NCBA Trade Show to compete in the quiz bowl.
At this year's competition, Oregon State represented the Western Region; Penn State represented the Eastern region; and the U of M represented the Midwest Region. The Southern Region was not represented.
"It's a friendly competition among students," Ahola said. "It brings a number of students to a major event and gives them the opportunity to meet beef industry leaders. It's a great opportunity for networking."
The tradition began 25 years ago in Nashville at the 1990 National Cattlemen's Convention.
Editor's Note: The articles used within this site represent a mixture of copyrights. This article was written by or under contract of the Angus Journal, an Angus Media publication. If you would like to reprint or repost the article, you must first request permission by contacting the editor at 816-383-5270; 3201 Frederick Ave., Saint Joseph, MO 64506. The Angus Journal claims copyright to this website as presented. We welcome educational venues and cattlemen to link to this site as a service to their audience.