Rice Lake's New Single Animal Scale on Display at NCBA 2016

Visit booth #4746 to view the new single-animal livestock scale.


RICE LAKE, Wis. (Jan. 22, 2016) — At the 2016 Cattle Industry Convention & National Cattlemen's Beef Association (NCBA) Trade Show, Rice Lake Weighing Systems will showcase its latest addition to the Rice Lake line of livestock weighing solutions — the Legal for Trade SAS single-animal scale. The convention and trade show will be Jan. 27-29 in San Diego, Calif. Joining the SAS scale in Rice Lake's booth, #4746, will be the 920i® digital weight indicator with Rate of Gain software for SAS livestock scale weigh centers.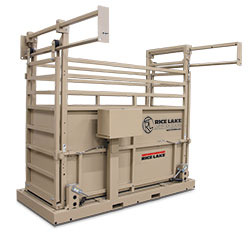 Visitors to booth #4746 in Hall F will experience the durable SAS firsthand. Offering safe and reliable weighing for a wide range of livestock, the SAS has a load capacity of up to 5,000 pounds (lb.). The SAS is built tough with 48-inch solid kick panel sides and thick wall tubing for added operator and animal safety. An ideal addition to the SAS, the 920i Rate of Gain weigh center features RATTLETRAP® digital filtering for stable weight readings. The weigh center also allows ID tag entry either manually or with an Allflex® RS420 Series wand reader. The software tracks rate of gain by date and provides average rate of gain per day when two to three weights are entered for the same ID number.
From mobile, portable and stationary animal scales, to livestock ring scales, farm bar load systems and agriculture utility scales, Rice Lake has livestock solutions that can make a measurable difference in farming and ranching applications. Visit www.ricelake.com/livestockscales for more information.
Rice Lake Weighing Systems is an international leader in the direct manufacture and distribution of weight-related products and process control equipment. Within this ISO 9001 registered company, progressive new technologies merge with the wisdom of industry experience to create the future of weighing through cutting-edge research and design. 

Editor's Note: This announcement is provided courtesy of Rice Lake Weighing Systems, 230 !. Coleman St., Rice Lake, WI 54868; www.ricelake.com.